Office solutions for the new hybrid workforce.
Connect with our Enterprise Team
A Modern Workforce Solution
CURATED OFFICE SPACE
We work directly with companies to provide workforce solutions exactly where you want them.
PURPOSE DRIVEN CULTURE
Doing good is the cornerstone of what we do. We are 'coworking with a cause', giving back through our nonprofit THRIVE | Initiative.
COMMUNITY FOCUSED
We're located in vibrant, walkable, lifestyle markets… right where your employees live, shop and dine. And our year-round programming builds authentic community, letting members expand their networks and business opportunities.
EXPERIENTIAL BY DESIGN
THRIVE offers design-forward style in walkable neighborhoods filled with shops and restaurants. Plus an engaged office culture featuring outings and events, as well as monthly breakfasts and lunches.
Your business is our business
EMPLOYEE HAPPINESS
Workplace well-being is directly tied to attracting and maintaining a committed workforce.
According to Gartner, 52% of employees report that flexible work policies will impact whether they stay at their organizations.
THRIVE's award-winning team is the best in the business, and our people make sure your people have everything they need to succeed — from a good cup of coffee to a community-based environment that adds meaning and purpose.
Harvard Business Review Study
Flexible Hybrid Adoption
Soulless cubicle farms with rigid 9-to-5 clock punching?
Those days are disappearing.
Flexible, hybrid work is the model being adopted around the globe — the Harvard Business Review found almost two-thirds of knowledge workers (everyone from programmers to lawyers) say flexibility is more important than salary. Read More
Solutions for the New Workforce
Let us show you how easy and efficient it is to evolve to the new way of working.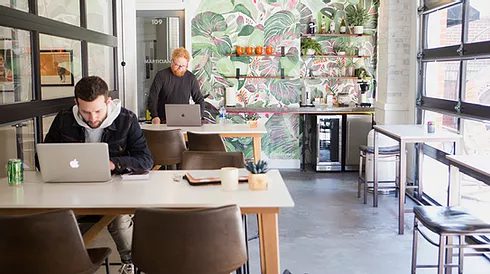 HYBRID SOLUTIONS
Work from anywhere and combine our monthly memberships with all the perks to give your employees space where they want it.
CENTRALIZED HUB
All the perks you want, in a design-forward, private space where inspiration and collaboration have room to spread their wings.
DISTRIBUTED WORKSPACE
Our experts can create a private suite that reflects your brand and is customized to inspire your team.
THRIVE | Initiative
THRIVE | Initiative is a 501(c)(3) nonprofit that helps charities, enterprises and communities thrive through the power of generosity. Think of it as 'coworking with a cause'.
Making donating simple and fueling generosity
Promoting local nonprofit awareness
ENHANCING CORPORATE GIVING
Empowering enterprises to accelerate their giving
Encouraging communities to shop and give locally
Accelerating entrepreneur growth throughout our coworking culture
Employees Inspired Throughout their Workday
Our dedicated and shared workspaces are designed for all types of professionals who are looking for a new way to work. A place to work connected, not alone — a professional, inspiring, collaborative, space that doesn't forget to add some fun to the mix. Through engaging, experiential, and service-oriented events, our focus is to create irresistible work environments while fostering a sense of community among our members.