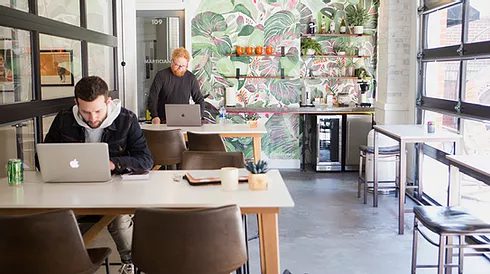 MAILBOX
Safe. Secure. Professional. When you need a business mailing address — and a real, live person to sign for a delivery — we've got you covered.
SHARED
All the perks you want, in a design-forward, respectful environment where inspiration and collaboration have room to spread their wings.
DEDICATED
From dedicated desks to full-on private offices, we have a workspace that has your name on it, whether you're flying solo or working with a team.
MEETING + EVENT
When you need some elbow room for a presentation or gather your team to strategize, we have a variety of spaces available, all loaded with amenities.
Make your return to the office easier with this special offer.
Unlock daily access to hot desks, meeting rooms, and private offices at any of our THRIVE locations. Reach out to our team and inquire about a free day pass or other new member specials.
THRIVE | Coworking and THRIVE | Initiative, collectively known as THRIVE, are setting a new standard for hybrid, flexible work resources.
THRIVE provides a purpose-driven environment for freelancers, entrepreneurs and employees of both large and small businesses, combining design-forward style and thoughtful amenities with philanthropy and social engagement.
THRIVE is an economic engine
THRIVE is an inspirational philanthropic model
THRIVE is a workforce solution
Community
We curate workplace culture with
member events/activities and foster
neighborhood engagement through local
merchant partnerships.
Convenience
We offer 24/7/365 access to
designforward spaces in walkable
neighborhoods, with member discounts
at local retailers.
Agility
We work directly with companies to
provide workforce solutions exactly
where they want them.
Philanthropy
We give back through our roundup
change app. Doing good is the
cornerstone of the Thrive experience.
When you join THRIVE | Coworking you become part of a community of dreamers, visionaries and go-getters. Camaraderie drives our members to be more successful and each THRIVE becomes a hub of the local community.
From startups to established companies, our members are what make THRIVE different — come to one of our events and meet the inspiring people who will become part of your journey. 
We envision a global movement driven by individual micro-donors, as well as corporate partners matching their employee donations, driving an economic tide that lifts all boats. Our goal is 1 million members raising $1 billion annually. Initiative partners with:
Local retailers, who offer Initiative participants discounts on goods and services
Larger enterprises that want to fulfill promises of enlightened corporate stewardship to their employees
Nonprofit organizations, so they can focus on philanthropy, not fundraising
THRIVE members, who can support neighborhood shops and their favorite charity at the same time